In today's fast-paced and technologically advanced world, efficient dispatch management is crucial for businesses across various industries. A digital dispatch system streamlines the process of assigning tasks, managing schedules, and tracking progress, ultimately leading to increased productivity and customer satisfaction. There are many digital dispatch systems available in the market, but only a few can be considered as the best performing ones. In this article, we will explore some of the top digital dispatch systems that offer amazing deals for businesses.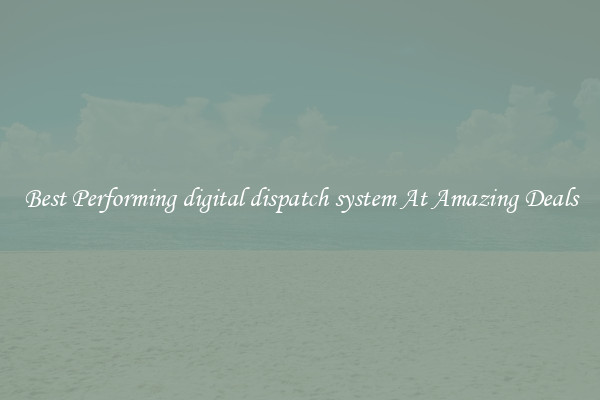 One of the best performing digital dispatch systems on the market is DispatchTrack. This system offers a comprehensive suite of features that help businesses optimize their routing and scheduling, assign tasks to the nearest and most available field workers, and track real-time progress. DispatchTrack also provides robust reporting and analytics tools to gain insights into operations and make data-driven decisions. With its user-friendly interface and 24/7 customer support, DispatchTrack ensures a seamless dispatch management experience.
Another noteworthy digital dispatch system is Verizon Connect's Reveal. This platform is known for its advanced GPS tracking capabilities, allowing businesses to monitor their fleet in real-time. Reveal also offers optimized routing options, intelligent dispatching, and automated job assignments. With its comprehensive reporting and analytics tools, businesses can analyze driver performance, fuel consumption, and other key metrics to improve operational efficiency. Verizon Connect's Reveal also provides exceptional customer support, making it a reliable choice for businesses.
For businesses looking for an affordable yet powerful digital dispatch system, Onfleet is a great option. Onfleet focuses on simplifying the dispatching process with features like automatic task assignment, optimized routing, and real-time driver tracking. It also offers seamless integrations with other software applications such as point-of-sale systems and customer relationship management tools. Onfleet's pricing is transparent and flexible, making it an attractive choice for small and medium-sized businesses.
Lastly, Samsara is another top-performing digital dispatch system that offers amazing deals for businesses. With its intuitive user interface and extensive functionality, Samsara enables businesses to efficiently manage their fleet and field operations. It provides real-time GPS tracking, automated dispatching, and intelligent routing options. Samsara also offers robust analytics and reporting tools, helping businesses identify areas of improvement and optimize their operations. With its competitive pricing and excellent customer support, Samsara stands out as an incredible choice for businesses.
In conclusion, a digital dispatch system is an essential tool for businesses to manage their operations efficiently. DispatchTrack, Verizon Connect's Reveal, Onfleet, and Samsara are some of the best performing digital dispatch systems that offer amazing deals for businesses. Each system has its unique features and benefits, allowing businesses to choose the one that suits their specific needs and budget.